Waste-a-Thon: Invest in our Planet
On 16th April 2023, as observe the Earth week(16th – 22nd April). This year's theme is to – Invest in our Planet. 
Bangalore currently generates more than 6,233 tonnes of garbage every day as per The Hindu. Out of this, only 10% of waste gets recycled in namma Bengaluru. The reason? Unsegregated waste, lack of infrastructure, and awareness among citizens. 
The problem doesn't only lie within household waste but also in commercial places like restaurants, some offices and other meat shop owners who throw their unsegregated waste creating black spots in different areas. 
Thus, with the vision of mobilising citizens and holding the government accountable, we launched a campaign called Waste-a-thon to invest in our planet during Earth Week. The aim of the campaign was to report garbage dumping and create clean spaces by involving the BBMP and citizens. You can read more about it in the article published by Bangalore Mirror here.
During this one-week tenure, 13 spots were reported by citizens and conducted 3 awareness drives on-ground involving 100+ volunteers. The awareness sessions were led by volunteers, and community groups such as The Indian Ploggers Army, Cognition Bangalore, Christ Deemed-to-be-University students, Interact Harmony, and Oracle. 
The volunteers collected 400+ kg of dry waste in just 3 hours of plogging over 2 days. The waste was handed over to Hasirudala Innovations for further processing.
We are following up with other folks and plan to have more garbage spots reported in the coming future. If you are someone who would like to be a part of this initiative by reporting garbage here: https://bit.ly/Clean_BLR. Read more below and be a waste champion.
How can you support?
Report Garbage

– If you are someone who resides in Namma City, sign up on the website

here

, and start reporting garbage within 500m of your vicinity. Upload the image with proper visibility of the garbage and the background. 

Squad creation – Once you report garbage the activity doesn't end there. You can now create your own squad and invite your neighbours to join the squad. This will build a cohort of citizens who are like-minded and would be a part of a squad to create awareness sessions.

The aim of squad is to have a bunch of people who would like to support the cause and keep a check on who is violating the rules set by BBMP under solid waste management. As per the rule, a citizen has to segregate their waste into 3 bins that is wet, dry and rejected waste. This waste will be collected by BBMP vehicles on day to day basis and taken to processing units.
Awareness sessions – The squads will act as the waste champions, who will be volunteering 3-5 hrs weekly to conduct awareness sessions as and when required involving BBMP (we will support citizens in connecting with the authorities as well as conducting the activities including experts)
The events can be marked on the website and shared with your friends and family to join the event. Events can include, Plog Run, Cleanups, Skit art, composting and others.
Cleanups

– Once the cleanup or awareness session is completed, please report a cleanup on the website.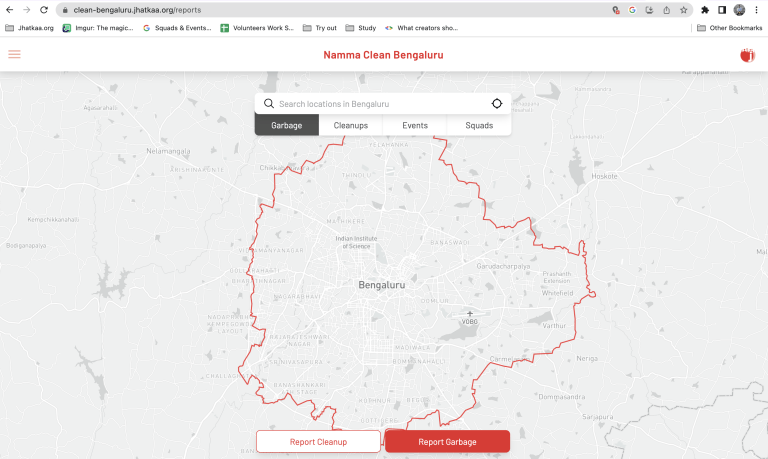 Why we need your support?
Because we believe no action can be taken alone by us or the government or citizens, it has to be a collaborative effort. So, what are you waiting for take action today, by signing up here: https://bit.ly/Clean_BLR 
We vision to be a completely member-funded organisation in the long run and continue working like this to mobilise more citizens using technology for a more equitable, inclusive and sustainable India. Support us to create those clean, safe public spaces by donating here. 
What's your reaction?
1
Love
2
Like
0
Not Good