Two whitlesblower students — one education giant — one-year long campaign 
And what a victory! 
Last year in November, two students at Symbiosis Law School – Hyderabad (SLS-H) were thrown out the college campus for two (among many other of their rebellious acts) reasons — calling out a professor for sexual harassment and demanding more efficient Internal Complaints Committee (ICC). 
A year later, they are back! Let us take you through how (in)conveniently Symbiosis allowed the two students on the campus again
Pt. 1: Signature petition
Jhatkaa.org started a campaign asking the college to start an ICC investigation into the case and take the students back with immediate effect.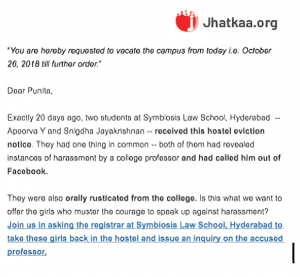 Pt. 2: Member Email/Call to Symbiosis 
Member calls to M.S. Shejul, Registrar, SLS and Dr Vidya Yeradevkar, Principal Director, SLS is done telling members to ask for an update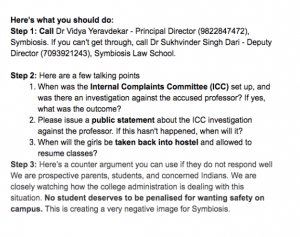 Pt.3: A bunch of letters to
MS Shejul, Registrar, Symbiosis International (asking him to take the students back on campus) 

Maneka Gandhi, Minister of Women and Child Development (asking her to intervene in the case) 

Rekha Sharma, Chairperson of the National Commission for Women (NCW) 

Dhirendra Pal Singh, Chairperson of University Grants Commission (UGC) 

Prakash Javdekar, Minister of Human Resource and Development (MHRD)
Not-so-polite Twitter storms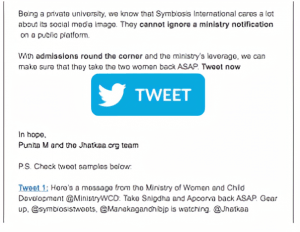 Everybody's favourite — Artivism 
Supremely talented and brave illustrator Sharath Ravishankar depicted Snigdha's and Apoorva's journey with a comic strip…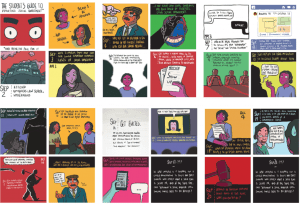 …and it turned heads 
…and got the media mobilisation to spread the word. 
Here's what we got: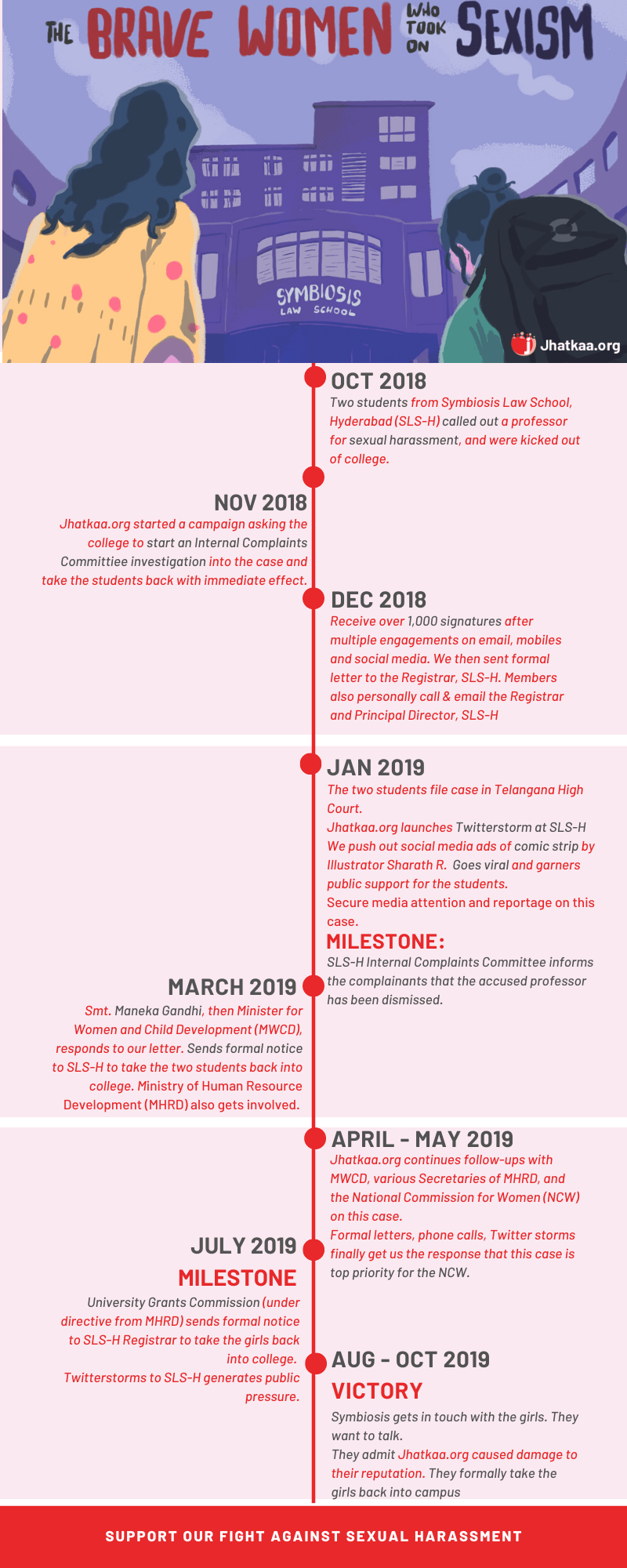 It's a VICTORY!