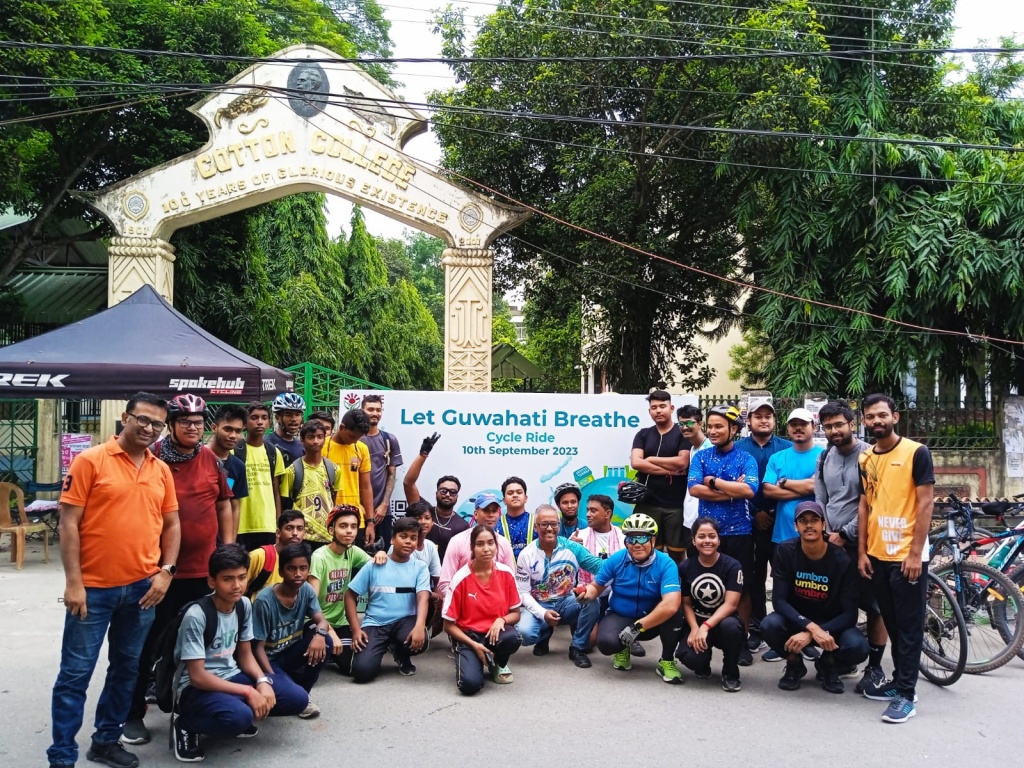 An unusual ride
This wasn't a usual Sunday morning. The sun rose to cover Guwahati in hues of gold. People from all over the city, adorned with safety gear, gathered with their cycles outside Cotton University for a common cause: to demand clean air for the city.
Fuelled by passion for a sustainable environment and determination to bring about a difference, over 80 individuals showcased the strength of unity by pedaling their way to a greener tomorrow.
What's happening in Guwahati
Guwahati, the largest city of Assam, is engulfed in the folds of toxic air. According to data from the World Air Quality Index, Guwahati was included in the undesirable list of the '10 most polluted cities in Asia'. At certain times in the past, the levels of toxic air have been compared to that of Delhi, and at other times, it has surpassed those levels.
The unavailability of adequate data on air quality in Guwahati makes the issue even more complicated. Experts note increasing reports of cases of asthma, lung disease, respiratory trouble, and even bronchitis! Pregnant women, children, and the elderly are at even higher risk of complications.
Spreading awareness on mitigating air pollution
As a starting point, a bicycle rally was organized in the city on the 10th of September in collaboration with Pedal For a Change, Arshel Akhter, BYCS, Mission LiFE and Jhatkaa.org to spread awareness on combating air pollution. A sea of cyclists donned the streets and covered an area of approximately 8 km to raise awareness of the urgency to act on air pollution.
The group of cyclists colored the city with vibrant hues to overtake the dull greys that often entrap Guwahati, signifying the presence of toxins in the air! After the event, the first bicycle mayor of Guwahati, Arshel Akhter, delivered a talk on the importance of cycling to prevent air pollution and its sustainable nature. He also emphasized different things citizens could do in their daily lives to mitigate air pollution. The event was graced by esteemed personalities, including Mr. Anil Oraw, Regional Director of IndiaTourism, and Mrs. Snigdha Baruah Mazumdar, Guwahati Municipal Corporation Ward Councillor, who echoed similar sentiments.
More than just a cycling event- it was a testament to the power of community, the shared vision for a healthier environment, and the belief that change begins with us. We hope that the Guwahati Bicycle Rally sent ripples of inspiration throughout the city and far beyond.
If you haven't already, please sign the petition demanding cleaner air for Guwahati. Do share the petition with your friends and family.