As static as 2020 may have been for most of the world, Jhatkaa.org hosted, and participated in a large number of events on ground and online over the past 12 months.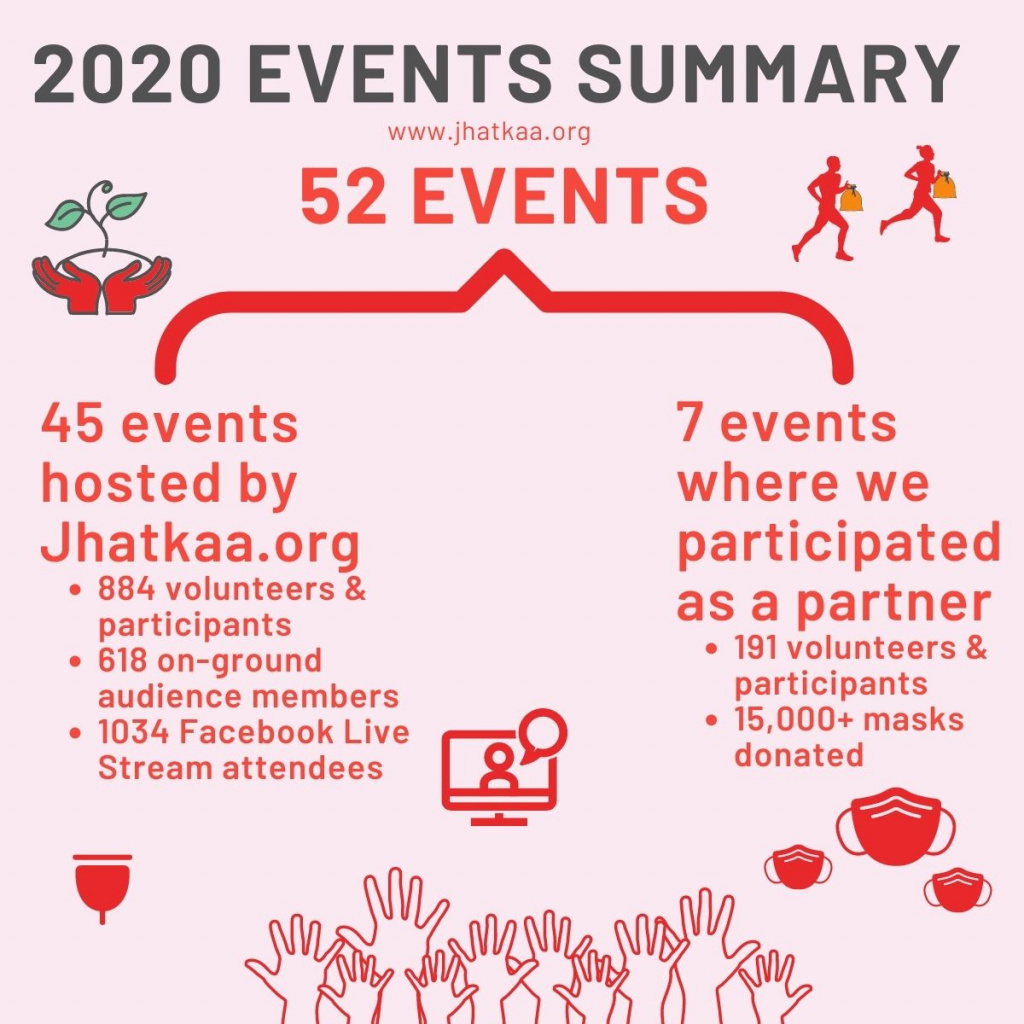 In summary, of the 52 total events, we participated as hosts for 45 events and supported 7 events hosted by our partners or Super Citizens. Our own 45 events saw 884 participants, while the 7 events for which we 191 attendees, and 1035 individuals attended the online events via Facebook, and 618 attended on-ground events as audience members.
January – March 2020
In January and February we held multiple mask distribution events on the streets of Indiranagar, and at VR Mall. Here we spent a lot of time and effort to convince 100s of people to wear a mask. It was a challenge as even free masks back then was treated with suspicion. Things changed very quickly in the months that followed. In March we did run a tree-planting drive in Bengaluru before everything locked down, at what seemed like "indefinitely" at that point. In this time period we gave away 1000s of our air pollution masks to support people in need of masks.
Read the Bangalore Mirror cover story article on the mask distributions here.
Our lungs installation also took to the streets in Mumbai and Nashik. Watch the video of it here.
April – June 2020
Our Events strategy, like everyone and everything in the world, had to adapt very quickly starting April, because of the Covid19 pandemic. We first experimented with a webinar on World Earth Day and had nearly a 100 people attend. Inspired by that success, we went ahead and launched WebinarWednesdays, which aimed to give participants the knowledge and tools to help build an equitable, inclusive, and sustainable world.
Read the Civil Society on the webinars here.
Watch the recording of the Live Stream of one of our favourite webinars – Filing a PIL
July – September 2020
August peaked with over 2 million people engaged online, and 100s of cyclists taking the streets across India, to promote a better cycling infrastructure. Our partners produced 2 music videos, and on-ground cycling enthusiasts promoted cycling in their hometowns across the country.
It turned out that the webinars, as popular and successful as it was, required huge bandwidth– from speaker and topic curation, to invitations, promotions, content creation, execution and follow-ups. And so in August 2020, we paused Webinar Wednesdays. At this point, the world slowly began opening up again, and so we began working on the Hennagara Tree Planting drive– an ambitious project to plant 4,500 trees and revive a 300-acre lake south of Bengaluru.
Watch a Super Citizen speak about the tree-planting drive here
October – December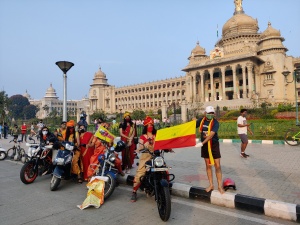 We hosted a couple of plog clean-up runs in Lalbagh and at Vidhana Soudha. These are always a success with some of the most passionate environmentalists coming together on the streets. We also participated in two menstrual health drives, where we helped raise funds for the distribution of cups and pads to underprivileged families.
Also, a highlight of this last quarter was us winning a space on Church Street, in Bangalore, to engage with citizens around our work in air pollution. In order to bring more people into the fold of understanding-and-in-turn-care-and-act for the environment, we invited a slew of creative people to make music, dance and tell stories related to air pollution. In 3 events we had engaged over 600 audience members. We have the space till February, so come by and check it out.