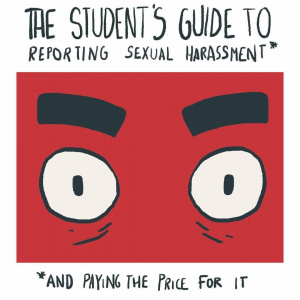 Art by @shirtshanks on instagram
Due process, as raised in the context of #MeToo, often speaks to a broader conception of fairness, not just a legal one. The common argument is that due process must be followed as accusations can ruin the career of the accused. But does due process do more harm than good? In one such scenario, when 2 people – Apoorva Yarabahalli and Snigdha Jayakrishnan, then fourth year students of Symbiosis Law School accused their professor of sexual assault, the "due process" by college authorities led to a rustication and media trial of the students instead of the accused.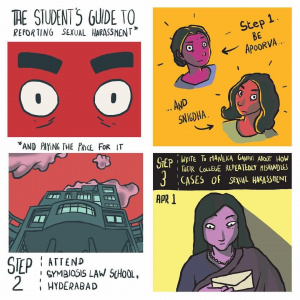 Art by @shirtshanks on instagram
On April 1st, 2018, two Symbiosis Law School students, Apoorva Yarabahalli and Snigdha Jayakrishnan, wrote to Maneka Gandhi, Minister of Women and Child Development, as well as other organisations, including the National Commission for Women, expressing their dissatisfaction with the institute's handling of sexual harassment complaints. On May 3rd, over a month after the institute was asked to investigate the matter, the Registrar answered, stating that one of the accused, Assistant Professor Srinivas Methuku, had been severely reprimanded and that the other accusations had been misunderstood as sexual harassment. Due to the administration's lacklustre response, Apoorva uploaded a picture of an Instagram post on Facebook on October 10 in which an anonymous victim had recounted her sexual harassment experience with Srinivas, as well as the institution's response, which indicated that the accused had been "reprimanded." Puja Malhan, the Head of Students' Affairs at Symbiosis International University, took objection to this.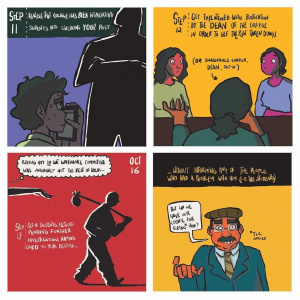 Art by @shirtshanks on instagram
Prof. Srinivas Methuku was suspended without informing the complainants after bowing to public pressure. But the dean, Shashikala Gurpur warned Apoorva and Snigdha with rustication on October 25 for defaming the university on social media and violating the code of conduct. On 26 October 2018, the students were asked to evacuate the campus till further order. Even prior to this, the administration had spoken to their parents about their "conduct" and forcefully evacuated them. On 15 November, Jhatkaa.org started a campaign to support the women and ensure that they can go back to college. Apoorva and Snigdha had to file a writ petition in Telangana High Court to reclaim their rightful position in college.They were unable to take their annual exams because they had missed four months of classes.
But finally, one year later, on 15 November 2019, after multiple Twitter Storms, a viral comic illustration, media hits, phone calls, formal letters, everyone's collective actions made an impact! Apoorva and Snigda were allowed to go back to college and Symbiosis has been forced to take sexual harassment seriously — and what's more, the National Commision for Women, Ministry for Women and Child Development and the University Grants Commission stepped in and closely followed the case.
It is clear that #MeToo has been a great force for good in many ways.For far too long, a subliminal menace has accompanied too many unequal power relationships: a continuous percussive sexual beat audible only to the parties involved. Victims of unwanted sexual advances – usually women – who had kept reserved their fear of repercussions, or whose complaints had been dismissed on most occasions, were finally able to acknowledge that this is simply the price one pays to be a woman or a non cis man in the modern world. 

College disciplinary hearings, unfortunately, serve as a cautionary example of a serious absence of concern in establishing due process or even following due process if one exists. Often, instead of conducting a comprehensive and unbiased investigation, they rush to judgement in the sake of political correctness, putting their institutions' reputations ahead of their students' needs. This was what happened at Symbiosis International University.
The students here had the significance of the experiences downplayed and the legitimacy of their intent and grievances were questioned. The trial was held against them instead of the professor who was accused. They were threatened with rustication, forcefully evacuated from college premises,publicly shamed and had to go through an excruciating legal process before they were let back in college. The punishment was handed to the complainants instead of the accused.
A large number of people pretend to not understand the abuse of power that causes such extended periods of ignorance. They do not set in procedures to avoid incidents from taking place in the first place and even when it does, they jump to cover it up rather than solve the issue, provide support and hold a lens to the root of the issue for course correction. 
Due process is designed to exclude those who aren't in places of power. It often shifts blame and doubts on the complainant while the accused is granted the benefit of doubt. The burden of extensive proof falls on the complainant when in most cases, physical proof can not be provided. The social contract plays into the gender roles and due process becomes excruciating and inaccessible to most. 
Comics by @shirtshanks on instagram

These Illustrations Remind You How 2 Students In Hyd Stood Up To Sexual Harassment – InUth
This Illustrated Series Is Using Instagram to Spark Social Change — The Vice
Tweet storm brews over Symbi's Hyd law college ouster of girl duo – The Pune Mirror
Symbiosis Law School Hyd evicts 2 students from hostel after 'Me Too' post on professor – The News Minute