The Dumna Nature Reserve (DNR) of Jabalpur Municipal Corporation is spread over nearly 1800 acres of forested land on a plateau, about 40 meters above Jabalpur town. It was transferred to the Municipal Committee of Jubbalpore by the provincial government to act as the catchment area for the Khandari lake. It is a dry deciduous variety, which is typical of mixed forests in central India. Many native trees, plants, shrubs, herbs, creepers, climbers, and grasses can be found here. It has a variety of eco-systems, including woodlands, grasslands, and wetlands.
A few developmental projects such as Road widening, An IPL level stadium which now has become a Green Sports Complex (40 Acres), Offices for the Railways (40 Acres), Land to Revenue Department for Residence (10 Acres), Land to Lokayukta (5 Acres), 5-star hotels/resorts (10 Acres) were proposed to be built in Dumna earlier this year.
The local residents discovered that the projects would have a grave impact on the biodiversity of Dumna, which is classified as an eco-sensitive area in the Jabalpur Development Plan. The residents came together to form the "Save Dumna" movement, whose main aim is to protect the area from unsustainable development, encourage developers to find alternative sites for the proposed projects, and declare Dumna as a green zone where no development can take place. 
"The campaign started out small," said, Nikita Khamparia, a naturalist and one of the lead organizers with Save Dumna, "On January 26, 2021, we had planned a clean-up drive and we expected only forty to fifty people to show up but around 250-300 people showed up. School students from 2 schools and their principals joined them."
Dumna is also home to nearly 2,000 cheetal, barking deer, and four-horned antelope.To name a few, Dumna is home to the jungle cat, Asiatic wild cat, wild boar, and crocodile. Over 300 bird species, both migrant and resident, have been identified here.The death of a leopard on July 8, 2021, once again brought the community together, 20 people came together to do a street play and raise awareness about the perils of the projects on the wildlife there.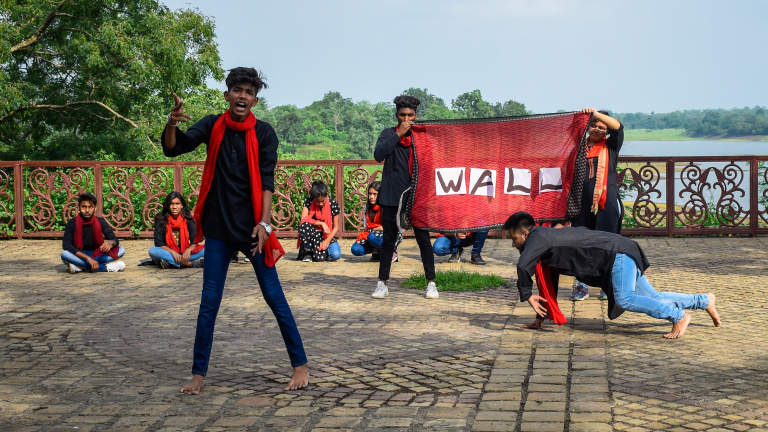 Nikita firmly believes that the forest is trying to protect its habitat in its own way. As a naturalist who takes safaris in Dumna, Nikita had never come across a leopard inside the Dumna region although it was home to 10 leopards. One day, a leopard was seen climbing a wall built inside Dumna, the locals believes that this was the way of the leopard protesting the developmental projects. The sight of the leopards gave rigour to the Save Dumna campaign, leading them to organize email campaigns and use creative methods of art to push the importance of saving biodiversity.
This unity has kept the movement alive. Nikita spoke about the hope that the Save Dumna campaign gave her, "Small acts like this give me hope. They remind me that something will work out. Every step counts, every step towards saving a forest. Everyone who is doing something is important, whether they are at home or on the ground, their work counts and it is because of that we will see change."