When Art Flute offered us to address citizens on the floors of a popular Bengaluru mall, we jumped at the opportunity. Jhatkaa.org were a part of two events during the festival
One of these two events was proposed and propelled by Jhatkaa.org. The event led by us aimed to engage mall goers with content built out of our air pollutant campaigns. We were looking to engage people to sign-up as volunteers, help spread our message among their own communities, and simply be more informed.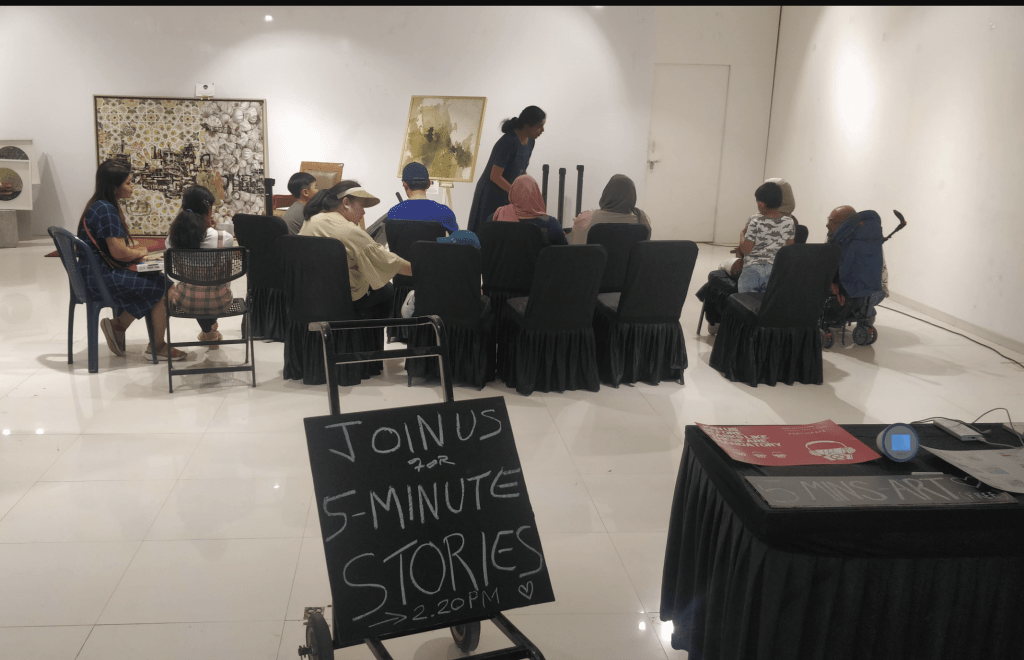 With us, we had two air pollution monitors to demonstrate the quality of air right there inside the mall; posters with readings of air quality from around the world from the previous day; a registration desk; a laptop with a slideshow of our lungs installation; and over 200 3M masks for distribution.
We sought the services of Meenu Sivaramakrishnan is a professional performance storyteller.
She ran 6 rounds of story-telling sessions with a total of over 50 attendees, with children to grandparents who wandered in from the mall. She told 2 separate stories, both in the time range of 10-12 minutes. Both stories were about air pollution and how people can participate in fighting it at an individual and at a community level.
At the other event Jhatkaa.org took part in a panel discussion. Avijit Michael, Jhatkaa.org's Executive Director spoke at the UnGallery Talks, at the session Creating the Culture of Sustainability". Co-panelists included Susheel Nair, co-founder, Artand, an art and concept design firm; Tara Krishnaswamy and Srinivas Alavilli, the founding members of Citizens for Bengaluru; Akbar A, Artist and Spatial Designer and part of placeArts Youth Collective, activating place through Art
About Meenu:
She believes stories have the power to enrich as well as entertain. In her humble attempt to rekindle the love for oral storytelling, she started her initiative called KATHA GALATTA. KATHA GALATTA provides the space for sharing ideas, spread awareness, learn, get inspired through the beautiful medium of stories. She has performed at cultural spaces, libraries, public parks, lake festivals, Storytelling festivals and schools in Bangalore. She is also associated with the Bangalore Storytelling Society.
What's your reaction?
0
Love
1
Like
0
Not Good