A Step Towards Sustainability and a Glimpse into the Ongoing Challenge of Disposable Waste
Introduction
On a crisp morning at 7:00 AM, Lalbagh Botanical Garden came alive with a spirit of unity and purpose. Volunteers from all walks of life converged at the Main Gate, all with a singular goal in mind: to make Bangalore cleaner and more sustainable. This transformative event was a result of the collaborative efforts of Indian Ploggers Army, Hasirudala, Saahas Zero Waste NGO, and Rotary Lalbagh. With over a hundred dedicated participants, the event proved to be an inspiring example of citizen-driven environmental action
A Diverse Gathering with a Common Mission
What truly stood out was the diversity among the volunteers. People from every corner of the city, representing different backgrounds and professions, came together for a shared cause. Whether it was a resident from Whitefield or someone from Wilson Garden, the passion to create a greener future transcended geographical boundaries. This event not only fostered a sense of camaraderie but also yielded tangible results – the collection of over 150 kilograms of waste in just 30 minutes. This achievement underscored the unwavering commitment of everyone involved and highlighted the impact that collective action can achieve.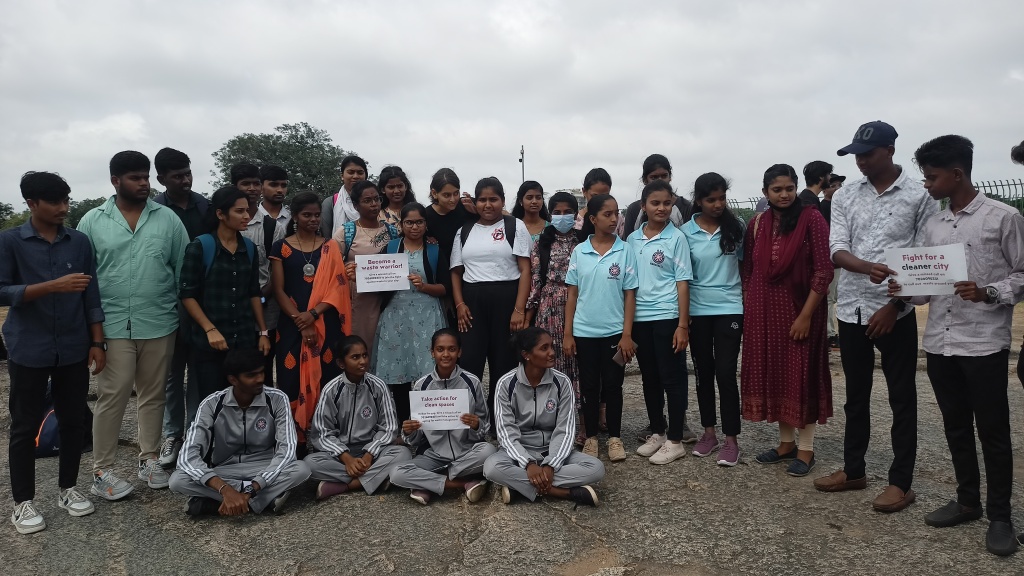 Taking Responsibility: Our Waste, Our Duty
"OUR WASTE IS OUR RESPONSIBILITY" – a sentiment echoed by Raj, a participant who encapsulated the essence of the event. The power of this statement reverberated through the actions of the 100 citizens who stood as waste warriors. They took the first crucial steps towards a cleaner environment and set an example for others to follow. Their initiative extended beyond the event itself; they encouraged fellow citizens to contribute by giving a missed call to +91-70260-90331, effectively inviting them to become part of the movement. The message was clear – each of us holds the power to make a difference right in our own neighbourhoods, preventing the proliferation of garbage dumps and the harmful practice of garbage burning.
Joining the Movement: Your Role
The call to action is simple, yet impactful:
Give a Missed Call:

Dial +91-70260-90331 to signify your commitment to a cleaner Bangalore.

Opt-in for WhatsApp Messages:

Respond affirmatively to the message you receive on WhatsApp. Rest assured, you will only be contacted when relevant activities arise.

Stay Informed and Engaged

: Benefit from insights shared by experts and community groups, enhancing the impact of your contribution.
Your support is pivotal in fostering cleaner spaces in Bangalore and holding decision-makers accountable for the environment. It's time to address the mess that's accumulating in our surroundings. Join this movement by sending a missed call and being a part of the transformation.
Post-Plogging Reflection: The Persistence of Disposable Waste
While the plogging event at Lalbagh Botanical Garden was undoubtedly a success, the challenge of single-use disposable waste persists. Despite the passionate efforts of Saahas Zero Waste and other organizations, disposable items continue to plague our environment. The convenience of single-use products has ingrained them into our daily lives, making it difficult to fully eliminate them even after events aimed at raising awareness.
However, the plogging event served as a reminder that change is possible. By coming together as a community and taking small but impactful steps, we can reduce our reliance on disposable items. Continued efforts in educating the public, advocating for sustainable alternatives, and pushing for policy changes can gradually shift the tide away from disposable waste.
In conclusion, the plogging event at Lalbagh Botanical Garden was a testament to the power of collective action and citizen engagement in creating a cleaner and more sustainable Bangalore. While the challenges posed by disposable waste remain, the event's success offers hope and inspiration for a future where our environment is free from the burden of single-use products. Let's continue to work together towards a greener tomorrow.
What's your reaction?
0
Love
0
Like
0
Not Good