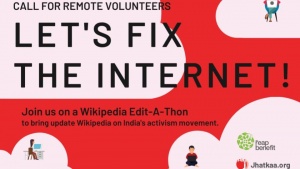 A key part of building momentum for a particular is to ensure the quality and distribution of information across the internet. In our case, we found that environmental work in India was under-represented on the web.
Our partners ReapBenefit were equally interested in the idea and wo we joined hands to lead the charge on adding-to and cleaning-up of information online– specifically around activism and volunteer work.
The first step prior to an edit-a-thon was to conduct a skill-building workshop. On top of clean grammar, we also had to ensure that volunteers knew the difference between Fact-and-Opinion, were capable of well-rounded research and understood the tech tools required to make the modifications online.
Menaka Raman rallied and led volunteers on behalf of ReapBenefit, and Jacob Cherian (myself) rallied and led volunteers on behalf of Jhatkaa.org.
Feel free to use our content slides here.
Take our Quizzes here:
Capitalizations and Abbreviations