Our second Edit-a-thon session was less Theoretical and more Practical. In this session we moved from Style, Tone and Voice (our first session content) to making actual edits on a page.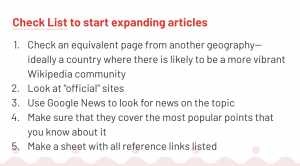 The theoretical part of the 2-hour session covered topics like "How do you identify missing content", resolving the debate of "Should one build a new page?", the value of "Modifying existing pages" instead of starting from scratch.
At the technical level, we acquainted audiences with the key elements of the Visual Editor.
The majorly-practical session here involved researching and expanding on incomplete articles. Participant in the Edit-a-thon each expanded on a topic of their choice.
The session was led by Jacob Cherian (myself) from Jhatkaa.org and Menaka Raman of ReapBenefit.
Check out the session slides here.
Try our Quiz here: What is Missing in These Pages?