All you need to know about the journey of 8561 trees!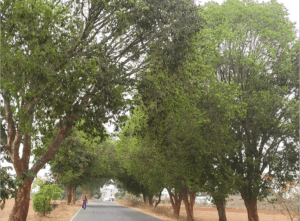 8561 trees are proposed to be cut for a road-widening project by KRDCL ( Karnataka Road Development Corporation Limited), in order to decongest the tech corridor. Existing two-lane and four-lane roads will be converted into four-lane and six-lane ones on the stretch between Bannerghatta, Sarjapur, Mandur, Anekal and Whitefield. Some of these trees are over 80 years old and include peepal, banyan, tamarind and other species
Although KRDCL invited public consultation, it was rushed, with the citizens given only a day's notice. According to locals, the public hearing was not carried out according to the regulations. They were provided with no information other than how many trees would be cut. 
Citizens questioned the several anomalies in the procedure adopted by the officials. On 24 Jan 2021, we collaborated with citizen groups and started a petition regarding the felling. KRDCL had put out little to no information, detailing the environmental impacts of the loss of these trees. This led to on ground protests with citizen and student groups in February. We simultaneously filed RTIs at KRDCL to seek information.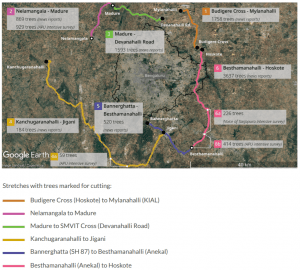 Amidst this, researchers from Azim Premji University conducted a rapid EIA on the project. It was found that the road widening would have hazardous impacts including, but not limited to health issues from increased pollution, urban heat islands, loss of heritage trees, loss of urban biodiversity, threat to forest ecosystems, loss of religious places, threat to lakes and reduction in carbon sequestration. The Environmental Impacts of the project is detailed here. Armed with scientific information, we proceeded to push legal discourse. We had to resort to file more RTIs as our initial ones went unanswered. Following due process, we filled a Public Interest Litigation at the end of December.
Our hearing was posted for 24 Feb. It was postponed to 30 March as the  respondent for KRDCL requested for time. Before the hearing, Petitioner No 3 Rajani Santosh filed an affidavit to state that work was being undertaken by KRDCL since the last date of hearing in the ecologically sensitive zone. So on 30 March, The Hon'ble High Court considered the affidavit and directed KRDCL to file their response to the main PIL and the affidavit within a week's time.
In the last hearing on 7 April 2021, the High Court of Karnataka had ordered an enquiry into the tree felling at Uraganadoddi in the ESZ if Bannerghatta National park after KRDCL could not provide an explanation for the trees that were cut on the surrounding road widening project.
Arguments presented by KRDCL contradicted their own affidavit. They said there were no trees in the stretch but also mentioned that the trees felled were not by them. The high court then directed the state government to conduct an enquiry to find the real culprit.
This is a positive directive. But our fight is far from being over. Till the next hearing, we, citizens have to be more vigilant towards such acts of indiscriminate cutting of trees.
This is going to be a long battle with significant costs that include legal fees, research and more. Support Jhatkaa.org in winning this, for a greener, more sustainable Bengaluru.