When I was in Mumbai for my masters, I lived on the border of Matunga(E) and Vadala(W). Matunga(E) has some rich, heritage buildings. Parsi colony, Five gardens, famous South Indian restaurants, some of the best colleges – Ruiya, VJTI, Khalsa. When I first went to explore Matunga, I thought Mumbai is not that bad. In my early days I mostly traveled to CST side by Central rail – it wasn't so bad either.
But then slowly slowly my exploration took me to the side that was not so great for anyone exploring Mumbai – The Harbour line. It felt that all the old and remaining resources were sent to the stations on this line. Not just physical but Human resources were also scarce on this line. This line was really really filthy. This was my first encounter with inequality in resource allocation based on the area you live in.
Then I understood that this resource allocation is also creating a great divide in the social strata of this city. Every new feature in local trains always went for Western Line – The local train of rich people of Mumbai. Western line has its own General Manager. Most of the rich working class and celebrities initially lived along this line. Most of the Koli, Aagri (Fisherman), Hamal, Mill workers, workers of Solid Waste Management depts of BMC lived along the central and harbour line.
Thanks to constant efforts and demands from the new influx of new working class living in Navi Mumbai – there is a progress to revive harbour line slowly. Stations got cleaned, repaired and painted and even expanded in the last few years. But the mindset of bureaucracy is still the same.
While this discrimination is not possible on local line a new public service is facing similar issue. With constant efforts by Nitin Gadkari in center and Aaditya Thackerey in State – E-buses are making their space in the BEST fleet. With 72 e-buses in it's fleet – BEST is becoming a model of Electric bus adaption in the existing fleet. The number is expected to rise to 240-300 based on the pace of the FAME scheme under which the buses were brought in.
But where are these new, shiny, good looking, clean and zero pollution buses are plying? All in South Mumbai. And a very convenient reason for this is that there are only two charging stations both in South Mumbai for these buses. This is a very systematic way of distributing the best of the resources to the richest of the people. It's always a very convenient explanation that all the necessary infrastructure of prime features of any service is always installed in the richest of the areas. In fact, most of the people in South Mumbai don't even use buses, but the diesel buses are polluting these spaces frequently used by Rich, the Politicians, the big corporate daily. Why should they inhale the toxic fumes of diesel buses?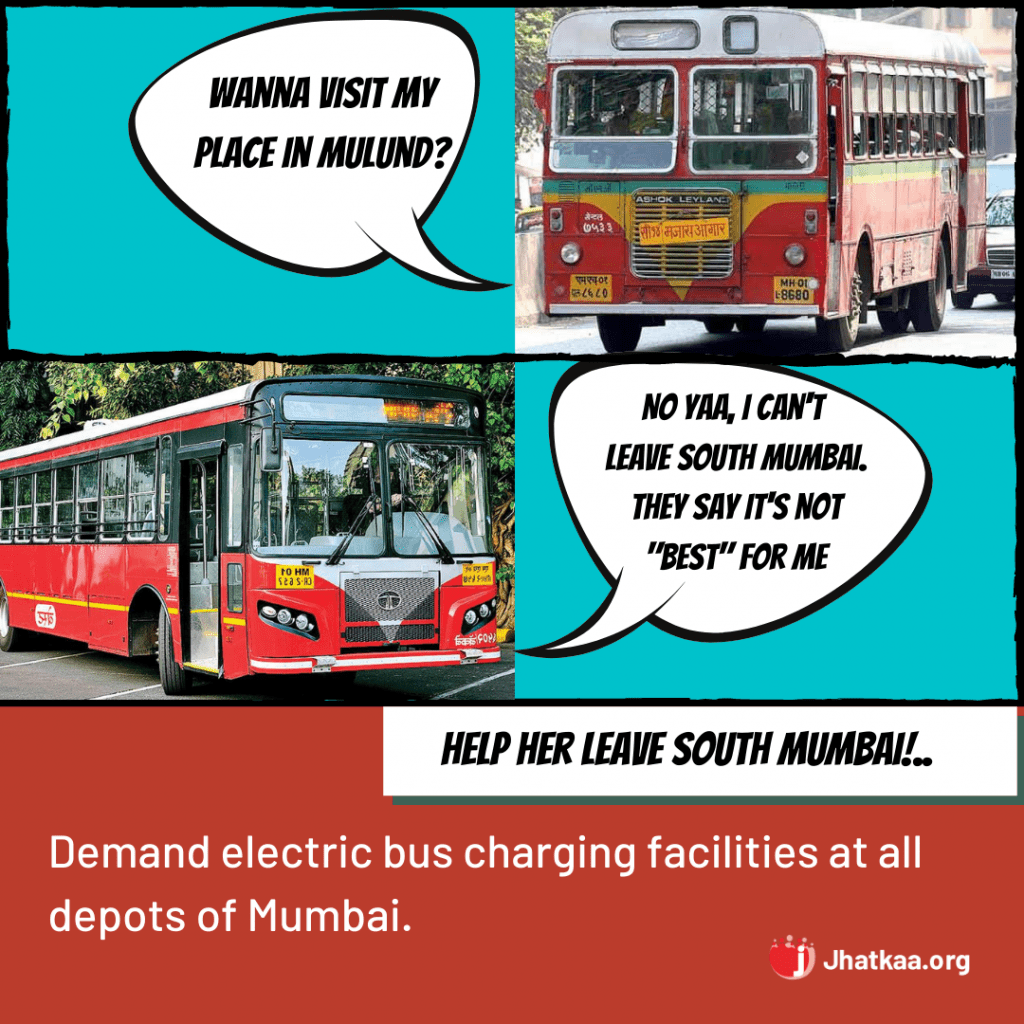 If BMC really wants to make sure that they replace all polluting buses in Mumbai with non-polluting ones, they should go bus by bus and not area by area. That means they will have to install the Charging stations in all 27 depots of Mumbai – both from south Mumbai and Suburban areas. Or else electric buses will be Mumbai's next joyride – after monorails of course.