Awareness to Action: Bengaluru Takes a Stand Against Plastic Pollution
On the 4th of June, Jhatkaa.org took a proactive approach by organizing a comprehensive event along with a photo exhibition to address plastic pollution in Bengaluru. The event, which took place on Church Street from 4:00 to 6:00 pm, aimed to engage citizens and create awareness about the gravity of the issue.
The event kicked off with a petition, calling upon attendees to take a pledge against plastic pollution. The petition received a satisfactory response, gathering 32 signatures from concerned citizens on-ground. Additionally, participants were encouraged to share the petition with friends and family, amplifying its impact beyond the immediate event.
The exhibition showcased a series of impactful photographs, including images from previous plogging activities that highlighted the amount of plastic waste collected. As citizens immersed themselves in the photo exhibition, the visitors displayed an eagerness to take further action. These visuals served as a stark reminder of the visible and invisible threats that plastic poses to our health and the environment, particularly the air we breathe.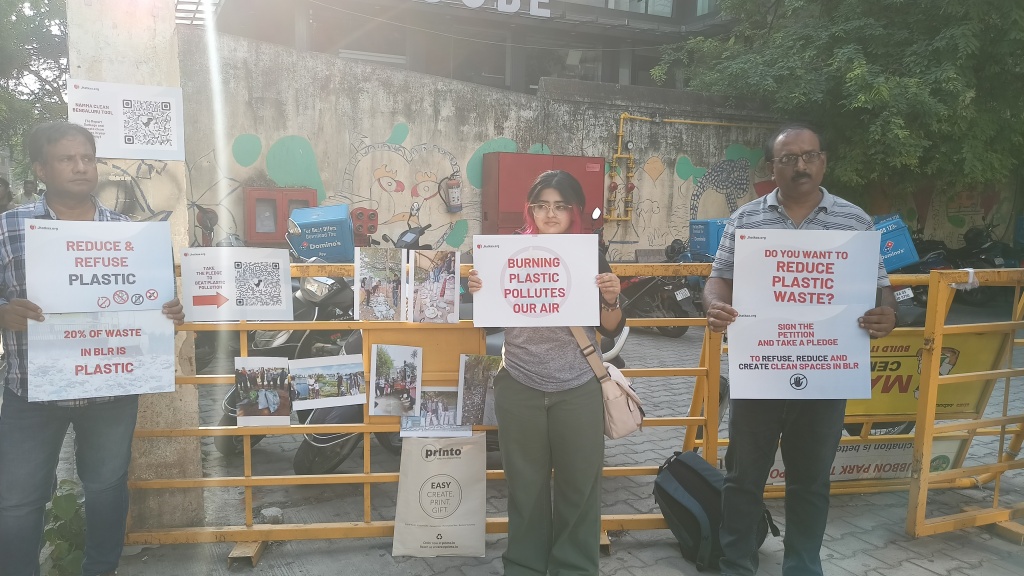 The visitors inquired about how to get more involved in combating plastic pollution and expressed a desire to contribute actively to the cause. Several individuals even signed up to volunteer, demonstrating their commitment to making a tangible difference.
To empower citizens and enable them to address plastic pollution at a local level, Jhatkaa.org introduced the Namma Clean Bengaluru tool. This interactive platform allows residents to report garbage dumps around the city and create squads of like-minded people for creating clean spaces along with BBMP. Jhatkaa.org, in collaboration with the Bruhat Bengaluru Mahanagara Palike (BBMP), would then take forward these reports and work towards effective solutions for clean air.
Chiku and Anaan were present at the venue from Jhatkaa.org, along with their team of volunteers, played a vital role in organizing and spreading awareness during the event. Their presence and expertise sparked meaningful conversations, igniting a sense of urgency and inspiring individuals to take proactive steps.
Jhatkaa.org's photo exhibition on Environment Day 2023 accomplished more than just raising awareness. By engaging citizens through petitions, collecting signatures, and introducing the Namma Clean Bengaluru tool, the event empowered individuals to actively participate in the fight against plastic pollution. It demonstrated that when provided with the necessary resources and opportunities, citizens can and will drive change, leading us towards a sustainable and plastic-free future.