Awareness about waste management through street play in Ward 99 Rajajinagar.
18th December 2021.
On a cold Saturday morning when most were busy attending to their morning chores, a group of citizens, activists, and street play artists confronted them to make some noise around the best solid waste management practices. What could be better than holding a street play with a bunch of young theatre artists? The 20 odd minutes followed an entertaining show that depicted why managing our waste is a social responsibility.
Hasiru Dala, Jhatkaa.org, and BBMP conducted street plays as an IEC (Information education and communication) activity to give awareness to the communities in Ward 99, Rajajinagar. The event aimed to create behavioural change amongst residents about the segregation of waste at the source and how it helps to fight against climate change. The Street play was held with the help of police personnel from Basaveshwaranagar. Officials from BBMP were also present during the event.
We choose three prominent places
Modi road near KFC

Indiranagar near Siddappaji park

Communities inside the Indiranagar locality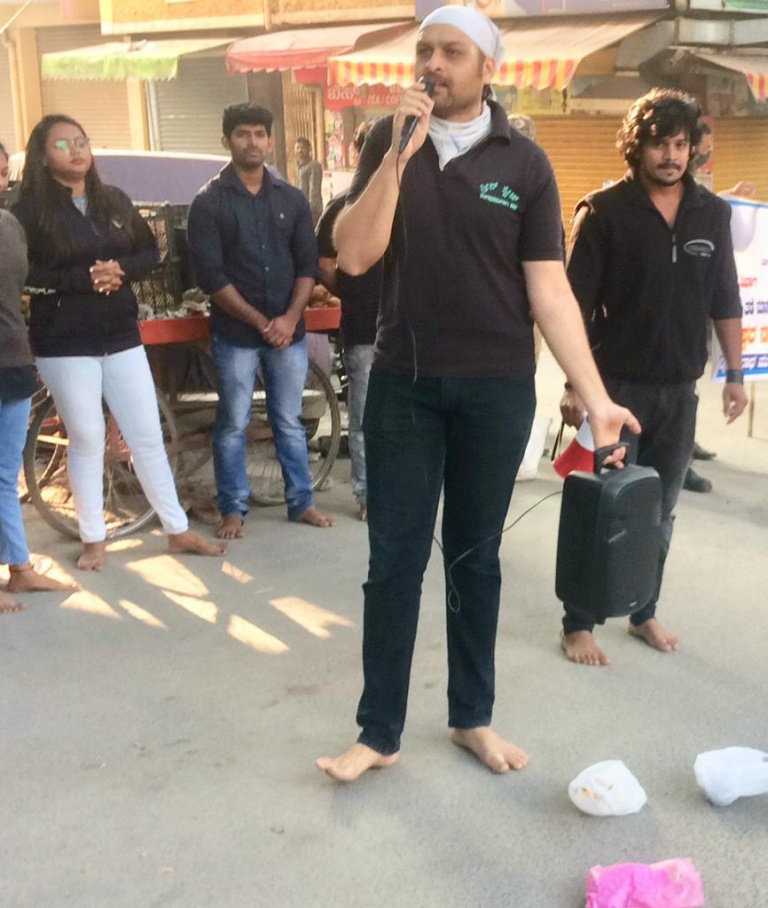 These junctions would provide us with a platform for artists to perform and people to listen, interact and introspect. 
The street play was enacted by Greenstage, a theatre artist group led by Vijay.
The group was proud that one of their performances was 100th for solid waste management. Greenstage has performed this act in several places across Bangalore. 
The interactive street play portrayed how an individual's irresponsible act of waste dumping in an empty spot would lead to multiple people following suit and creating a blackspot. The highlight of the play was the importance of plastic which would lead to innocent animals consuming the same. And then, the most crucial part was the two bin one bag concept which has to be followed as instructed by the BBMP for effective segregation of waste at source.
Residents chanted a pledge, "Namma Kasa Namma Javabdari", our waste our responsibility. The chant mainly was a pledge rather than a slogan for citizens to remind themselves of their social responsibility.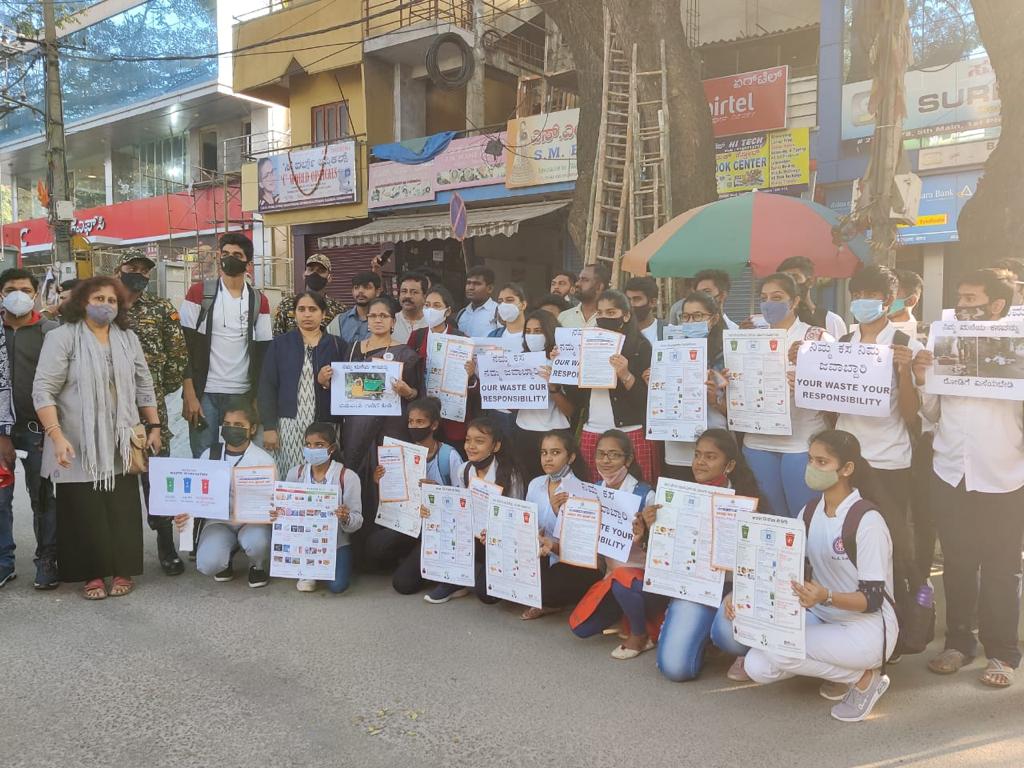 To support us with the awareness activity, around 25 students from the NSS unit of the KLE Society were present on the day spreading the message of segregation as an essential step for waste management in the city. They held placards and spoke to citizens while distributing the information booklet. 
The event turned out a massive hit, with around 150 plus residents turning up from the locality. 
Hasiru Dala has supported BBMP in creating awareness in these communities for some time, but compliance was still a challenge for several reasons. Non-compliance had led to Blackspots in multiple locations. The street play was a creative medium through which we tried to convey health impacts, best practices and behavioural change. 
We hope this street play will lead to some impact and proper disposal of waste in the locality. Behavioural change takes time, and it can't be done in a day. The interactive street play is the first of many to come, and we hope to create such events in the future to improve solid waste management in the city. These actions are labour intensive, thus to support us donate here.
What's your reaction?
2
Love
0
Like
0
Not Good